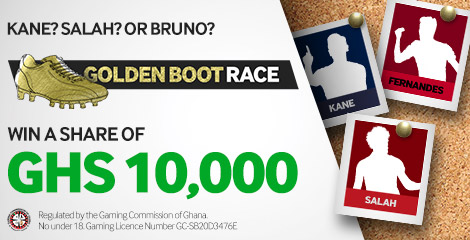 WHO WILL SNATCH THE EPL GOLDEN BOOT?


Entries for this competition have now closed.


How it works

Entry requirements
Participants must correctly predict which EPL player will end the 2020/21 season as the league top scorer to go into the lucky draw.
Participants may only make one prediction, and all submissions are final.
The grand prize will be shared equally among 3 winners.
In the event that there are more than three winners, all qualifying participants will go into the lucky draw where three winners will be chosen at random. If there are less than three winners, the grand prize will be shared equally among the remaining winners.
The promotion only pertains to the English Premier League and does not include other cup competitions the players may be involved in.

Terms and Conditions

Terms and conditions
A valid Betway account is required to participate in the promotion.
The promotion is only open to persons who are natural persons, 18 years or older, and either Ghanaian citizens or permanently reside in Ghana.
The draw will be done at the end of the season when Golden Boot winner has been confirmed.
Participants who make an incorrect prediction will not be eligible to win the grand prize.
This promotion will run for the remainder of the English Premier League season then the promotion will be ended.
The winner must have at least made one deposit and placed one bet on their Betway account to be eligible for the grand prize.
Betway may require the winners to complete and submit an information disclosure agreement to enable Betway to ensure compliance with these Terms and Conditions. Should the winner be found not to have complied with these Terms and Conditions, he/she will automatically be disqualified and the prize will be forfeited. claim a prize, winners must also submit FICA verification documents.
The prize is not transferable, and no substitution is permitted. The prize will not be handed/awarded to a third party, but only to the verified prize winner.
The judges' decision is final, and no correspondence will be entered into.
The organisers of the competition reserve the right to cancel, postpone or change the competition at any time.
The winner's image may be used for promotional purposes.
The Promoters will continuously monitor any irregular behavior, whether it be in entries and/or Participant's details. Consequently, any violation or attempt and/or suspicion of violation or irregular behavior and/or non-compliance with these Terms and Conditions will result in immediate disqualification of the Participant.
The Participant acknowledges that he/she has been given an appropriate opportunity to first read these Terms and Conditions and that he/she understands and accepts these Terms and Conditions.
All Participants participate entirely at their own risk. By reading these Terms and Conditions and participating in the promotion, the Participant gives consent to these risks and hereby indemnifies and holds harmless the Promoters, their directors, employees and agents of any and all liability pertaining to any damage, cost, injuries, and losses of whatever nature sustained as a result of their participation in the Promotion and related events and activities, save where such damage, cost, injuries or losses are sustained as a result of gross negligence or willful misconduct of any of the Promoters.
The Promoters, their directors, employees, agents and distributors, are not responsible for any misrepresentation (whether written or verbal) in respect of any Reward nor in respect of any warranties or undertakings given by any person other than the Promoters themselves. Should you require any clarification or advice regarding these Terms, please contact Customer Support.
Standard participation requirements and terms and conditions apply.
All entries from disqualified participants' mobile numbers will be rejected.