Which Tier do you fall in?
Place more bets, more often to upgrade your Betway status for more bonuses.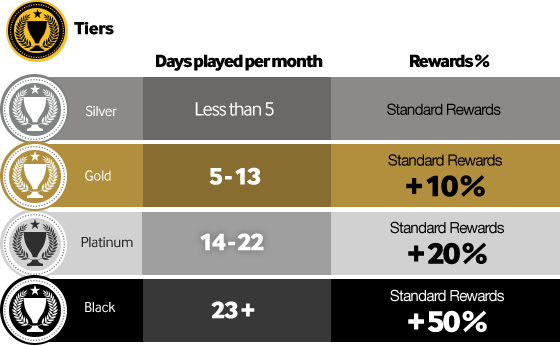 The number of Tier Points earned depends on how often you bet with us. Once you reach a status, you will be eligible for that status' bonuses for the remainder of that month and the next month.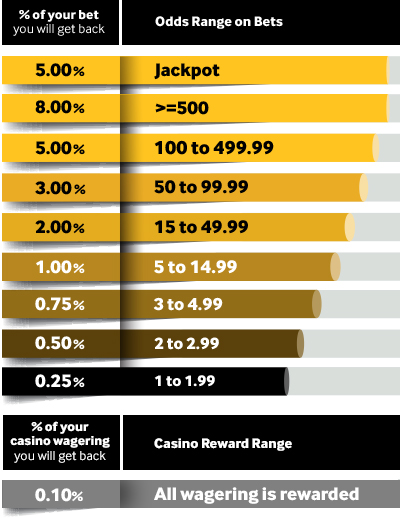 Your wagers on sports (pre-game or Live Betting) and betgames are used to calculate your Rewards points.
(Wager) x (% of Wager) = Free Bet x (REWARDS TIER)
For example:
Peter is Gold Status
Peter bets on his team at 5.25 odds
• Peter bets GHS 100
100 x (1.00%) = GHS 1 + (10% Gold Status) = GHS 1.10c in Free Bets
Terms and conditions
These terms and conditions govern your participation in Betway Rewards as a loyalty programme offered by the Company.
Betway Rewards will grant players Free Bets based on a tiering system dependent on bets placed on consecutive days. (see table above for examples)
Player tiers are calculated every month, and players are eligible for their tier for that month and the following month only. Tiers are recalculated on a monthly basis.
Should a player fall out of his tier through non-consecutive play, their tier status will still be valid for that month and the next. They will need to reacquire their tier in future months.
Player Free Bets are calculated twice every week. First Free Bets calculation period is from Monday 00:01 to Thursday 23:59 and your Rewards points will be awarded on Friday. Second Free Bets calculation period is from Friday 00:01 to Sunday 23:59, and your Rewards points will be awarded on Monday. Players will be unable to check the status of their Free Bets during the week.
Players will be notified every Monday and Friday via SMS of their Free Bet amount for the previous week.
Free Bets expire after 180 days.
Should you win from a Free Bet, the Free Bet amount will be removed from your winnings and the rest will be allocated to your cash balance.
Example: If you wager a Free Bets of GHS 50 with odds of 4.0, the normal expected return would be GHS 200. Since the GHS 50 used to bet on the game was a Free Bet, only the winnings of GHS 150 will be added to the player's Account. The original Free Bet amount of GHS 50 will be removed.
Betway reserves the right to withhold Free Bets in cases of abuse or fraud.
* If a Monday falls on a Public Holiday or Betway experiences any technical issues, Free Bets will be credited to customers on the soonest available business day.